RED HEART, DEAD HEART, AND PURE HEART
Rev. Dr. Robert E. Donaldson
Published by
World Wide Web Witness Inc.
April-May 2002
ISBN 0-9580787-1-8

PREFACE

(This is really PART of it!)
Australia is often thought of as having a red centre, or heart. The world is often found in much to have a black or dead centre and heart. Its individuals are biblically depicted, when without faith in Christ, as in that case, dead relative to the true knowledge of God: hence the condition of this world. It has had many face-lifts, many environmental upthrusts, but it is not changed. It is getting old, and the wrinkles appear, the cancers and the cankers. These are beginning to look ineradicable as inveterate growths of hate, hostilities and seemingly mad wars arise like so many storm clouds on a tempestuous day (cf. the prediction of Revelation 6:4, 8, so abundantly now fulfilled in all of its aura and awesome horror).
Increasingly, nobody, it seems, among the nations, can take anything. They might take it in the sense of grabbing, but not in the sense of ... grace!
Those who might have been expected to be more restrained, are being increasingly challenged, so that despite their comparative patience, their fear or loss of blood is beginning to make the whole world nearer and nearer to a hot spot, emitting radiations of hate and heat, hostility and confusion, with exudations of will and froth, exhumations of revenge and tempestuous eructation's of oratorical wind and terrestrial flares, as if trying in emotion to emulate the sun, in its own physical outbursts!
What lies back of this intemperate tempest, this flaring frenzy, this river of blood, this flooded inundation, which even the Pacific seems ready to inflict literally on some of the smaller islands! Where is the source of all this squandering of the potential for friendship, co-operation and unity ? It lies in ignorance, not of facts, which multitudinous distortions apart (what would you expect from mortal and mordant hatred!), are scurrying about in more and more books: but of God. Without the knowledge of God, man the robber (seizing his own self and his world) soon becomes man the robbed - oppressed, subject of tyranny, bound contrary to liberty, by the feckless and the bonds that are fetid.
God is the source of man, and man loves to imagine, like a little child, that everything is different and to play tunes on the harp of his pretensions (in a child, this might be mere pretence!), so that the discords coming from the untutored initiatives produce a weird cacophony which, increasingly it seems, the young adults like to project in works of music, or those to which this name is accorded. As his tunes conflict with truth, so they conflict with each other. As the world grows worse, the determination to IMPOSE these tunes on every listener's ear become the more frenzied. At concerts they come; in politics it goes and makes captives.
This however is not only not all, it is not the worst. The tunes, speaking metaphorically, are not only all wrong, those imagined ones, but all songs of rebellion. Forget God by concentrating on your sacred self, your fulfilled self, your important self, your needing-to-be-rewarded self, your defrauded self, or whatever other variety may have contemporary appeal, as new varieties are found and then of course, marketed (cf. A Spiritual Potpourri Ch. 17). Thus comes the delusive message.
Again, Forget God by concentrating on the chief antagonist who impacts negatively on that for which you are the protagonist, or his socks or his shoes. If these fail to interest, then try this: Forget God by concentrating on removing the very thought of Him from your mind, and so join various irrationalists organisations or organs, like naturalism, evolutionism, Marxism, Freudianism, or other reductionist parodies of man and logic (cf. Indexes).
If, despite all these opportunities to play the rebel, you need more scope, it is still available. The devil, that vast antagonist of truth and reason, reality and operability for the human race, is imaginative: he was made rather a great creature, though he has despoiled both his own virtue and that of millions. There is still this line: Forget God and pretend to be a loving, caring person, whose humanitarian sensitivities will put all the rest to shame.
Yet how is this to be done, even plausibly ? There are many mundane ways for this option. You could give your body to be burned (more common now, to be blasted, if a Palestinian with Hamas, it seems), and so show that great love which burns in you. If you murder and half-murder others in the process, what has this to do with it ? seems to be the question. You are showing that something greater than yourself is guiding you. But how is that showing love ? At this stage, the devil usually intervenes with irrelevancies, so that the answers though impossible to detect by reason, verbify (why not ?*1 we NEED some new words) away in lieu of thought.
Again, you could TELL us how loving you are. That is not usually highly successful however, though it does work at times, for after all, did not Hitler have a great CARING mood towards the German people, or at least, project such an atmosphere ... at first. Otherwise, you could show how caring you are by being concerned for the environment, and it is a matter of concern, though in a short while it will all be gone (cf. Matthew 24:35). THIS sort of world does not go on forever; we must be very clear about that. That however is like knowing that you have deadly defective genes and proceeding to have children. It merely shows feeling, but it does not remove the root cause. Sin is ruining the world, and trying to rebuild it while this worse than radioactive spiritual irradiation is proceeding is like using a bike pump to prepare for the launch-off power needed for a satellite shoving rocket.
Forgetting God is like forgetting to be human, for you lose the definition book, and man is SO imaginative (imagination does not stop with child-hood). It is like forgetting you live in a house that has been built (it leads irrevocably to run-down, and probably to rats). It is like forgetting that you OWE something to a grandfather who bestowed on you a house. It is like being a child and forgetting you have parents.
This world ? increasingly it is like that. The Biblical impact from the former (in effect) British Empire is no more (cf. The Other News 13). Romanism and atheism romp about like pet young bulls in the drawing room, ungoverned and unlovely; communism calls like a harlot to youth, Islam comes to crush in its observable thrust. None has been able to stand (cf. Stepping out for Christ Chs. 2, 7-10, Wake up World...!, Chs. 4-6, SMR pp. 911ff., 1035-1088H, 925ff., Barbs, Arrows and Balms 29, 30, More Marvels ... Ch. 4). Morals are being tossed about live Autumn leaves, dead, fragile, passé. Spiritual innovation, void and vacuous, vapid and vaporous, comes tumultuous as lava, and as useful as that hot seething mass*2 .
Soon the world will find from fear, from terror, from organisational need, from a desire to exist and so forth, that it is convenient to have an international POWER to check some of this in its most destructive form. It toyed with the League of Nations, plays with the UN, mediates on the EU and the play goes on, near the tragic Act V already. Is it so short ? But look, it has been a very long time really, objectively, some thousands of years (cf. That Magnificent Rock Ch. 7 E).
Freedom will be traded for survival, success and so on; and survival will be a base, no doubt, or something of this kind, for terror, that final Hitleresque terror which stops at nothing, is thoroughly desperate to 'succeed', still of course without God (for WITH God the world would have no problems of any depths whatever). Then, biblically, finding the taste for vainglory overpowering (note history and see the seething glorification of vast rulers, starting with Mao and his thoughts, proceeding to Stalin and his foolish folly of imagining that class-warfare gone, he could control nature cf. Lysenko, SMR p. 883), and then turn to Napoleonic glory, papal splendour ('God almighty on earth' cf. SMR pp. 915ff.), de Gaullist glory for France, to Roman Empire times when the Emperor had to be worshipped: and having so turned, consider.
It is not popular to consider, nor is this strange, considering the lack of consideration for the truth, for God, for redemption in Christ Jesus, for the cure to the epidemic of national, personal and international sin which is rising like vast breaker, sky-high above the surfers, reaching to 1000 feet! They don't like the height, but they just go on surfing, more and more fearfully.
This is the Biblical picture of the end time dynamic in general. See for more particularity, SMR pp. 750Bff., Biblical Blessings Ch. 2 and index.


NOTES for PREFACE
*1 You COULD of course say verbalise, but this tends to have a more pedantic or mere physical thought. Again, you could be imaginative and say: erupt in verbalisms; but this is longer and could be an adornment reducing concentration. So why not invent verbify ?
In this volume we plan to trace, DV, areas of the red heart in various senses, the dead heart and the pure heart, and perhaps to concentrate on the more useful variety, the pure heart.
I

S it available for man ?

CAN you find peace in reality ?



IS there a way that is godly, good and workable ?

WHERE is it to be found ?



HOW do you proceed ?

MIGHT the heart indeed be purified ?



is it individual or other ?

Is it objective or subjective ?



Is it sure and steadfast?

WHY AND HOW ?

The wonderful news from millenia back, unchanged is this: YES, though we be all sinners, purification is as possible as is the washing of your car. Even the payment is covered for those who receive it. It DOES involve the knowledge of God, and personal friendship with Him. It DOES mean removal of divorce and immediate arrangement for marriage, if you want those terms, so that your dependence on God, your love of GOd and your provision from God are HIS affair, as is eternal life. That, it is a gift. If you have trouble in receiving it, never blame God. HE has made it clear He would like to provide if for ALL people, but He is not a tyrant.
*2
Cf. Stepping Out for Christ Ch. 1, Acme, Alpha and Omega Ch. 10, News 86, 116, 118, 122, 123.


CONTENTS
CHAPTER 1
News 207
DELINQUENT DECEPTION, MISERABLE MACHINATIONS
AND THE MIGHTY GOD

Existential, Visceral, Visionary, Predatory
or Valiant for the Truth
THE POIGNANCY OF THE PASSING PARADE

News 208
News Radio April 10, 2002
The Advertiser, idem
THERE IS NO TIME LIKE THE PRESENT

NEWS 209
BROKEN IFs and BREACHING THENs
Environment News Service, March 19, 2002
HOMAGE TO PERFECTION

News 210
Reader's Digest, April 2002
THE SENTENCE ON SUBSTITUTES

SHARPER THAN A BLADE


NEWS 211
ABC News Radio, April 19, 2002
THE STONE IS HEAVY
MURDER IS MURDER
THE UN IS KEEN

"THE DESIRE OF THE NATIONS"

News Radio April 24,
The Advertiser April 24
JUDGES WHO NEED NO JUDGMENT,
'FACTS' THAT NEED NO UNDERSTANDING,
SITUATIONS WHICH NEED NOT TO BE INVESTIGATED

"I AM CONTINUALLY WITH THEE"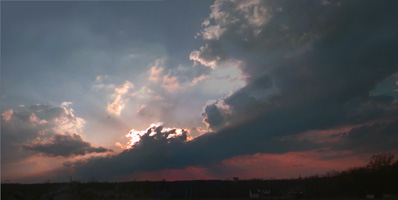 Psalm 73 and Apologetics